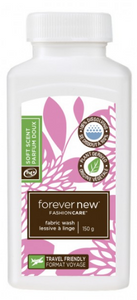 Fashion Care Forever New Powder 150g - Travel Size (10 washes) 2200
Perfect to wash lingerie & hosiery, silk, wool, cotton, swimwear, and lycra.
Removes residue from previous washings or dry cleaning.
Designed for HE and standard washing machines as well as handwashing.
20 hand washes or 5 regular machine washes.
Travel size.