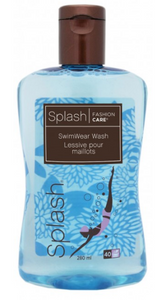 Fashion Care SPLASH Swimwear Wash 100 and 280 ml
A Unique plant-based wash that extends the life of your swimwear.
100 ml (14 washes)
280 ml (40 washes)
Neutralizes the effects of chlorine and salt
Removes body oils, lotions and sunscreen
Protects colour and preserves elasticity
Free from parabens, phthalates, and phosphates. Not tested on animals.